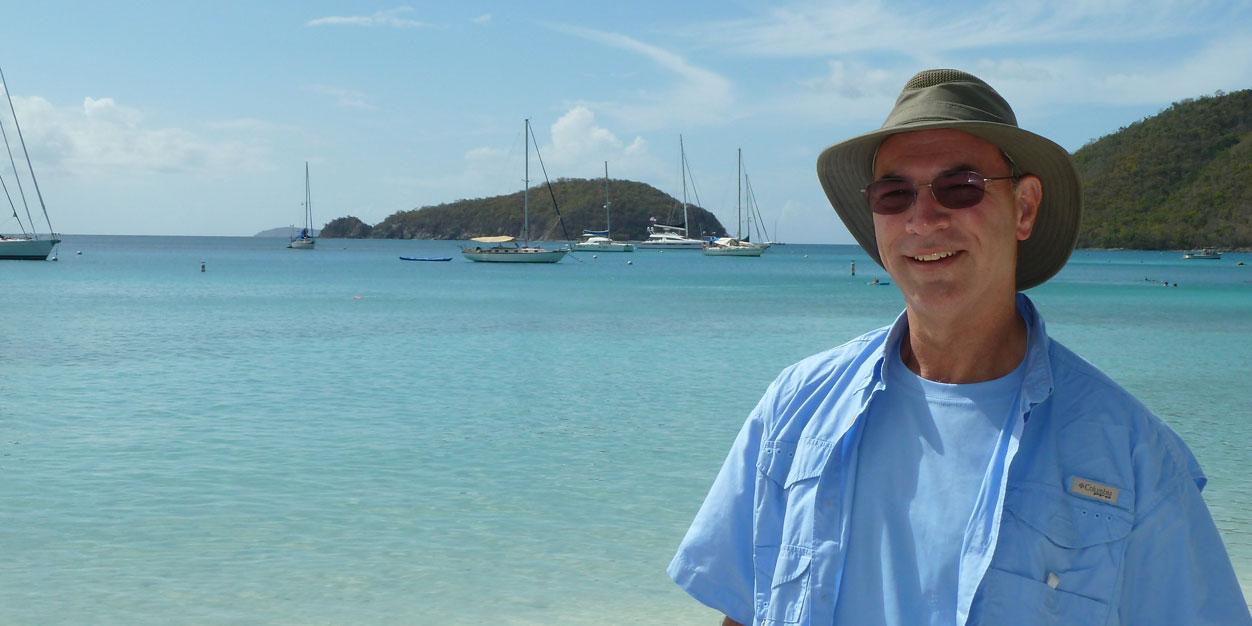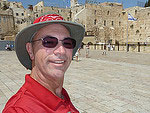 Mikron @ Western Wall, Jerusalem, Israel
Feel free to get in touch with me using the "Contact" tab (top right of every page).
Follow me on Twitter: twitter.com/MikronMusings
This is not "About Mikron" as much as this is about God's Word. But, I know how it goes. People feel they need to see credentials before they believe the messenger.
I'll give you some of my background… but, please keep in mind that some of the world's greatest messengers were fishermen, tax gatherers, and religious leaders endorsing the murder of innocent men… until they met Jesus.
I was born in Columbus, Ohio, and raised by loving parent as a Catholic. Most of my childhood was in the surroundings of Puerto Rico and the Virgin Islands. I grew up with a love for the ocean, the beach, and especially sailing. The photo above was taken on a recent trip to St. Johns in the Virgin Islands. As a result of growing up in Puerto Rico, I speak Spanish fluently and prefer tropical climates.
After I graduated from Commonwealth High School in 1975, we moved to Florida where I now call home. However, after studying at four different colleges and universities and no degree to show for it, and a family business that caught fire and was destroyed, I joined the Air Force in 1980. I was a broadcaster in the Radio and Television career field as a news anchor and field reporter, eventually becoming Operations Manager for two radio stations and a TV station concurrently. While in the Air Force, I married, had two kids, and lived in the Republic of Panama, Spain, Indiana, the Azores Archipelago, and Mississippi.
In May 1982, while in the Republic of Panama in Central America on my first tour of duty, through the loving kindness of a military family, I accepted Christ as my Savior and came to believe the Bible is the inerrant Word of God. My life changed dramatically at that moment and has been an adventure since then.
It was just a few short months later that I met a missionary who was going to the remote parts of Panama and preaching the Good News of Jesus Christ. On the second trip to the "interior" of the country I was asked to prepare a message, which I did, delivering it in Spanish. I have been preaching the Gospel at any opportunity I've been given since then. By the way, I also married that missionary.
Long story short, I've witnessed, preached, and taught the Bible in every place I've ever lived since I was saved.
During my walk with the Lord, I've come to realize I have been given the spiritual gift of teaching. From the very beginning of my budding faith I've had the privilege of studying and teaching in virtually every church wherever I've attended.
Eventually, while assigned to Lajes Field on the island of Terceira in the Azores Archipelago, I was ordained as a Southern Baptist Pastor of Azorean Baptist Church. Keep in mind, I've never been to seminary or to Bible school. Only the hand of God, along with personal Bible study, and a strong family testimony made this happen.
At a certain point in about 1998, as I was studying the Scriptures and teaching about the end-times, I realized my previously held understanding of the Pre-Tribulational Rapture of the Church and the second coming of the Lord was flawed. Since then, the study of the Pre-Wrath Rapture of the Church and Lord's second coming has become a major part of my study and my life.
Much of this website will be dedicated to studying the Pre-Wrath Rapture of the saints. NOTE: Please, make sure you understand the Pre-Wrath Rapture position. It is the most biblically accurate rapture position and most closely aligns with the Scriptures.
I led that congregation in the Azores for nearly three years until I was reassigned to Biloxi, Mississippi. There I was asked to be an Elder in the congregation of Trinity Bible Church. I preached and taught during a period of about a year until the congregation was finally able to select a new Pastor/Elder.
When I retired from the Air Force in February 2001, after a 21-year career, I joined the ministry of Zion's Hope. This ministry was the founding organization of The Holy Land Experience in Orlando, Florida.
I am still on the staff of Zion's Hope, where I wear many hats. I proofread all printed materials, including of the content of the ministry magazine, Zion's Fire, plus I am a published author in my own right. I'm a staff Bible teacher, communications manager, network IT manager, and audio/video recorder and editor.
Since 2007, I've been leading groups on biblical tours of Israel and the Holy Land, as well as numerous sites in the Mediterranean region, along with Zion's Hope's Executive Director and the Director of Operations.
In addition, in January 2006, I accepted the position as Pastor of Rosemont Baptist Church. I bivocationally pastored that congregation for eight years until December 2013.
Now, no longer a Pastor, I have more time to dedicate to writing, this website, editing the audio found on this website under the "Audio Studies" tab, and teaching in churches and Bible studies as invitations are extended my way.
So, my teaching credentials summarized would be: 1) I'm indwelt by the Holy Spirit of God, 2) I have a Bible, and 3) I've been a student of the Scriptures since May 31, 1981.
Perhaps I'm disqualified, however, because I've never really been a fisherman (but I am a fisher of men), or tax gatherer (but I have paid my tithe and my taxes), and I have never condoned the murder of innocent men (however, my sin was paid for by the murder of an innocent man, which, through faith in Him, will allow me to enter the Kingdom of God in the days ahead).
Will you join me? I hope so. The choice is yours.